Sustainable Landscape Design
Eco-friendly landscaping ideas & information
Pervious Paving Ideas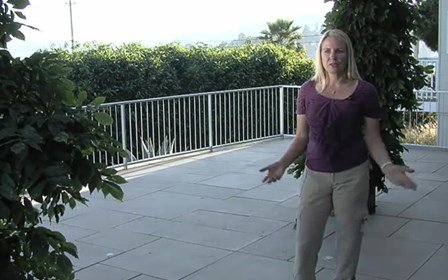 Time / 01:19
View all landscaping videos
The main goals of sustainable landscape design are to minimize both the input of resources and the output of waste in our yards and gardens. In order to achieve these eco-friendly aspirations, residential garden owners should treat water as a resource, value the soil, preserve existing plants and conserve materials.
Whether you are starting your landscaping from scratch or revamping an existing garden, you can make choices that are sustainable. Some strategies include using recycled materials in your landscape such as broken concrete or salvaged metal, mulching your garden beds, installing permeable paving, planting drought-tolerant trees and perennials, and using a passive solar landscape design that maximizes sun exposure in the winter and shade in the summer. Upgrading to sustainable landscaping is not only a good choice for the environment, it can also save you money on utility expenses and through sustainable landscaping rebates. The amount of maintenance required for your yard will also be reduced dramatically.
Get these tips
In this section, you'll find tips from landscaping professionals who specialize in sustainable design on:
The four key principles of sustainable landscaping and what each entails.
What type of landscaping upgrades may qualify for sustainable landscaping rebates, where your city will reimburse you after the completion of your project.
Where sustainable landscaping rebates are being offered and how to apply.
Ten ideas for using recycled materials in your landscape.
The benefits of using permeable paving to prevent stormwater runoff and replenish the groundwater supply.
Permeable paving options, including crushed stone, dry-laid pavers, open-celled grass pavers, and recycled materials.
Four tips for planting a drought-tolerant landscape that will minimize watering requirements.
Ideas for reducing landscaping maintenance time and costs, such as mulching and using low-maintenance plants.
Ways you can reduce the amount of lawn on your property to save on water usage.
How to conserve water by zoning plants based on their watering needs.
Keys to planting a successful kitchen garden, where you can grow your own herbs and vegetables.
The benefits of using ornamental grasses in a sustainable garden.
How to repurpose salvaged items, such as old watering cans or tires, for use as planters.
The fundamentals of passive solar architecture, which uses the sun's energy to naturally heat a home during winter and keep it cooler in the summer.
How to use trees in your landscape to reduce the costs of heating and cooling your home.
Advice on orienting your garden to take advantage of sun exposure.
A checklist for choosing the best trees for a sustainable landscape.
Ideas for creating a courtyard that eliminates the need for a lawn.
Many landscaping professionals are experienced in sustainable landscaping techniques, materials and technologies.