Concrete Design Ideas
Popular applications and ideas for using concrete throughout the landscape
Concrete & Bluestone Patio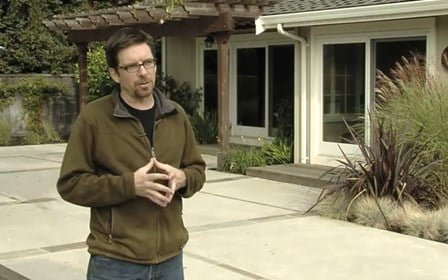 Time / 02:35
View all landscaping videos
Concrete is one of the most widely used building materials worldwide because of its strength and durability. For professional landscapers, it offers the added benefit of being one of the most versatile materials available for enhancing outdoor spaces because it offers unlimited design flexibility in terms of shape, color and texture. Concrete is also very cost-effective when compared with other paving materials. Here is an overview of the advantages, as well as the limitations, of using concrete to enhance your outdoor space.
Find a Concrete Contractor - Get a list of contractors near you from ConcreteNetwork.com
Why Choose Concrete for Your Project:
Durability - Concrete is more durable and longer lasting than many other building materials and endures extreme weather conditions and heavy foot traffic. It also resists the abrasion of heavy outdoor patio furniture.
Versatility - Concrete can be used for many applications both in and around the home. It's often thought of as primarily a paving material for patios, sidewalks and driveways. However you can also use concrete to make countertops, sinks, fireplaces, outdoor waterscapes and even furniture.
Design flexibility - Concrete offers unlimited design flexibility. It can be cast in nearly any form or shape and has the ability to be stamped, stained, dyed or colored.
Easy maintenance - Concrete is a solid surface that is easy to keep clean and free from debris and weed growth. Regular washing and resealing every few years will keep it looking good for decades.
Economy - When compared to other paving materials such as brick and natural stone, concrete is often more cost effective because it's easier to install.
Limitations:
One of the drawbacks of concrete is its tendency to crack due to expansion and contraction. However, cracking can be minimized by installing control joints when the concrete is placed. Concrete should also be sealed every two to three years to protect it from staining and wear. Installing concrete is not a do-it-yourself project. Always call a professional concrete contractor to do the work.
Decorative Concrete:
Gone are the days of concrete being boring and gray. Today concrete can be transformed with a variety of colors, textures and surface treatments. For outdoor concrete work, stamping and staining are very popular. If you are having new concrete poured, the surface can be stamped with a texture that replicates natural stone, brick, wood and more. If you have existing concrete that you aren't happy with, the look can be changed with the application of stains. Color options for concrete staining include rich earthy tones that blend well with outdoor environments.
Many homeowners are opting for decorative concrete for their patios, paths or driveways because they can get a high-end look for a reasonable cost. If materials such as natural stone or brick are out of your budget, but you love the way they look, it is likely that concrete can be used to get a similar effect. Talk to an experienced decorative concrete contractor about your options and find inspiration photos to help guide the design.