Outdoor Kitchens
Design ideas, planning tips and appliance options for outdoor kitchens
Circular Outdoor Kitchen & Bar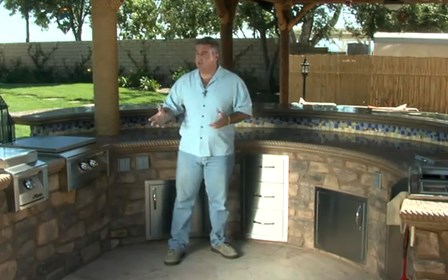 Time / 01:49
View all outdoor kitchen videos.
An outdoor kitchen is an excellent way to equip your backyard for entertaining and feeding hungry friends and family. Outdoor kitchens range from small areas with little more than a built-in barbeque grill to large, fully equipped kitchens complete with one or more grills, countertops, sinks, bars and storage cabinets.
When planning an outdoor space, you'll need to think about how many people you intend to accommodate, your entertaining needs, and your budget. The next step is to determine the best location for your kitchen, the size requirements, design layout, countertop placement, and the appliances you'll need. Finally, you must choose the best materials and equipment for accomplishing all your goals.
Get these tips
In this section, you'll find tips from outdoor kitchen contractors on:
The six most important factors to consider when deciding where in your yard to build an outdoor kitchen.
The importance of creating zones in your outdoor kitchen for various functions, such as food preparation and cooking, dining, and socializing.
Recommended dimensions for outdoor kitchen countertops, bar tops, dining tables and seat heights.
Five common layouts for outdoor kitchens and the characteristics of each.
The options for building the framework, or base, for outdoor kitchen structures, including concrete block, brick, wood or steel.
The advantages of using prefabricated kits to build an outdoor kitchen, along with a list of resources.
Advice on choosing paving materials for your outdoor kitchen "floor," including a comparison chart and cost overview.
Ideas for economical and space-friendly built-in grills suitable for small outdoor kitchens.
Design ideas for building a roofed structure over an outdoor cooking area to provide protection from sun and rain.
A comparison of the various material options for outdoor kitchen countertops, including concrete, stainless steel, ceramic tile and stone.
Resources for cabinets for outdoor kitchens that are weatherproof, heat resistant, and sealed to keep out dust and bugs.
Tips for adding a swim-up bar to a swimming pool, along with recommendations for seat and counter heights.
The various appliances and cooking equipment you'll need to create a fully functional outdoor kitchen, such as side burners, sear zones, griddles and warming drawers.
The top three factors to consider when choosing free-standing grills for an outdoor kitchen.
Tips for selecting a built-in stainless steel grill for an outdoor kitchen.
Your options for decorative veneers to finish to the exterior walls of a built-in grill.
Refrigerator styles for outdoor kitchens, including under-the-counter varieties with built-in drawers.
Tips for maintaining the equipment and surfaces in your outdoor kitchen, including grills, stainless steel appliances and granite or stone countertops.
A fully equipped outdoor kitchen can be a big investment, but one that is sure to add lasting value to your home. To get help selecting the best equipment, materials and layout for your needs, be sure to consult with a professional.