Landscaping for Privacy
Ideas for creating backyard & front yard privacy
Bamboo Privacy Screening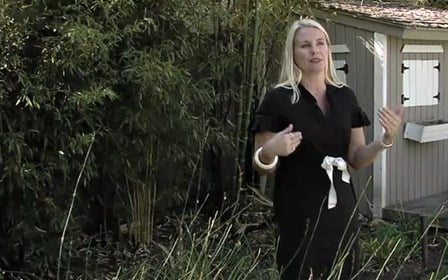 Time / 01:18
View all landscaping videos.
Your home is your sanctuary where you can escape from the outside world. But if your neighbor is mowing his lawn while you're trying to relax on your patio or you spot the neighbors spying on you in the spa, it's time to make privatizing your backyard a top priority.
There are a variety of ways to increase the privacy of your yard. Some of the options include adding a fence, wall, lattice screen, or row of trees or hedges. Your property conditions, desired level of privacy, local building codes and personal taste will dictate which method you select.
The ideal solution is to install a tall fence or wall to obtain complete privacy, but city building codes usually limit fence heights to 6 feet or lower. However, there are other methods you can use to increase privacy without violating building codes. Keep in mind that none of these solutions will provide total privacy, so expect to make some tradeoffs.
When privatizing your yard, you should also be considerate of your neighbors. Avoid blocking desirable views from their property, and consider how trees or a privacy screen will impact the enjoyment of their outdoor space.
Get these tips
In this section, you'll find tips from landscaping professionals on:
How to gain privacy by using plants, such as woody vines, to add to the height of a fence.
Why in some cases you might be able to obtain a variance that allows you to build a privacy fence or wall taller than your local building code allows.
The top 10 plants to use for hedging and privacy screening.
Important considerations when choosing privacy plants, such as shade, overhanging branches and maintenance.
How to use a dense row of trees or shrubs to create a privacy screen.
How to use buffer zone planting to position large trees and shrubs in a way that interrupts the view with foliage masses at various depths rather than a rigid line of trees and hedges.
Ideas for creating privacy with a strategically placed shed, greenhouse or other outdoor structure.
A chart comparing the cost, effectiveness, and maintenance needs of various privacy screening options to help you decide which solution is best for your yard and budget.
Ideas for attractive privacy fence designs incorporating latticework and small window cutouts.
How to use bamboo to create an inexpensive, fast-growing privacy screen.
Using concrete walls to create privacy in a front yard.
A good landscaping plan will bring privacy to your backyard without making you feel fenced in and isolated from nature.