Fire Pit Seating Area Placement
Determining a safe and convenient location for a fire pit
A fire pit needs to be placed in an open area, free of overhead tree limbs. Douglas Landscape Construction in San Jose, CA.
Shop Fire Pits
Find the perfect fire pit for your backyard, patio or outdoor space.
A large built-in fire pit with amphitheater style seating. Photo used under Creative Commons from Erin!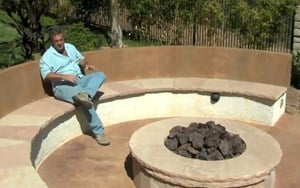 Round Fire Pit & Seat Walls
Time / 01:06
Learn about how this fire pit was placed to be a go-to destination and take advantage of views.
Location
The location of an outdoor fire pit should be chosen carefully. Where a fire pit is placed or built will have an impact on your safety and enjoyment. You will need a large open space for a fire pit. Ensure that flames and sparks will not reach structures, plants or any combustible materials. The location you pick must be level.
You will also need to consider the prevailing wind direction on your property and any views you wish to highlight. Fire pits work especially well next to other social areas. So consider locating your pit next to your spa, outdoor kitchen, or patio.
Local codes and regulations will dictate where you can locate your fire pit as well as when you can use it and what types of wood you can burn. Check with your city's fire marshal for details and information on building permits.
Space Requirements
When considering how much space you will need for a fire pit and seating area the first thing to decide is the size of the pit. Use chalk or tape to mark the position and size of the fire pit in your yard, then move chairs into place and see how it feels. Fire pits are meant to be enjoyed from all sides, so be sure that there is space enough for chairs all the way around the pit.
Consider that some people will want to sit close to the fire, while others will want to sit further away depending on their comfort level. Allow a little extra space for guests to back up if they become over heated or bothered by the smoke. Additionally, be sure to leave walking room for people to pass by when the fire pit is in use.
A good rule of thumb is to provide at least 7 feet of space around all outer edges of a fire pit. This will allow for plenty of room for furniture and traffic space. Remember that it is always better to have too much space as opposed to too little, so err on the side of caution. However, the best way to know how much space you need is to mark off the size of the fire pit and actually place chairs around it, this way you can get exactly the right amount of seating space for your specific needs.
If you plan to have built-in seating installed around your fire pit you'll need to carefully consider the distance between them. Since seat walls are permanent structures which can't be moved you don't want them in the wrong place. If you have them built too close to the fire pit your guests will become overheated. If you have them built too far away your guests will not get the full benefit of the warmth the fire pit generates.
Related Links
Fire Pit Size
Fire Pit Cost
Built-In, Prefab or Portable?
Construction & Materials