Outdoor Fire Bowls
Bowl style fire pits for your yard
Fire Bowl Design Ideas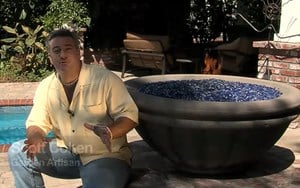 Time / 01:38
See how to use a fire bowl as a backyard focal point by filling it with decorative stone or colored glass, enhanced by a gas-lit flame. Also get tips for fire bowl placement and flame height.
Shop Fire Pits
Find the perfect fire pit for your backyard, patio or outdoor space.
Commonly made of precast concrete, fire bowls are smooth rounded pieces. They are a nice middle option between a built-in fire pit and a portable fire pit. Fire bowls look great in contemporary gardens and come in sizes small enough to display on a table or atop a pillar, as well as sizes large enough to serve as a gathering spot.
Fire bowls can be designed to burn wood or gas. A fire bowl can be filled with lava rock, colored fireglass, or any other type of fire-retardant decorative filler.
You can order a pre-made concrete fire bowl or have one made custom for your yard. If you choose to have a custom bowl made you will likely spend more, but you will have more size, shape and color options. Talk to a landscape designer about your options for a fire bowl.
Related Links
Bonfire pit
Fire table
Fire hearth