Swimming Pool Size
Pool size and depth considerations
Small Swimming Pool with Automatic Cover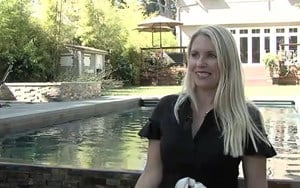 Time / 01:44
See how a small pool and spa, measuring 14' by 24', fits into a narrow backyard.
Swimming Pool Styles
Compare the four most popular pool styles:
Modern, Mediterranean, Traditional and Tropical
The size of your swimming pool will ultimately be influenced by the amount of space in your backyard and the amount you plan to spend in your budget. But functional options should also be considered. If you're planning to use your pool for exercising, you should think about installing a long, straight pool conducive to swimming laps. If you have children and want to play pool sports or games, then a recreational pool would be ideal. Recreational pools allow you the most freedom in size and shape as well. They typically have large shallow areas to accommodate children and games such as water volleyball, etc.
Common Pool Sizes, Dimensions and Depths
Ultimately, your pool size can be anything you'd like it to be. There are some general guidelines to helping you determine what size would work best for you. Check out these tips:
Shallow areas, which are essential for young children are typically 36 inches deep at minimum.
For lap pools, which swimmers use for training or exercise, are at least 4-5 feet deep throughout.
Lap pools are usually 25 yards long
Pro Tip: "If playing water games, such as water basketball and volleyball, will be the primary activity, then you want a pool that's only 3 feet deep at both ends and about 5 feet deep in the middle."

—Catriona Tudor Erler, author of Poolscaping: Gardening and Landscaping Around Your Swimming Pool and Spa