Swimming Pool Placement
Determining where to place a pool on your property
As one of the largest components of your backyard area, the swimming pool requires a lot of thought and planning in determining where to put it. It must accommodate a deck, surrounding landscaping, and adjoining patios. It's helpful to imagine your backyard space as activity zones. Your activity zones might include an outdoor kitchen area, a children's play area, a grassy lawn, the pool deck, planting areas and trees, etc. Each of these activity zones must work in harmony with where you place the pool.
There are also restrictions that can limit where a pool can be located. Zoning regulations, slope and drainage elements can influence the location and shape of your pool. You'll need to check with your city or county zoning office to find out restrictions. In some areas, pools must be 15-25 feet away from the property line and from any structure or building. You also need to evaluate how rainfall and drainage will affect your layout.
For small properties or large properties, there are certain key design details that can help guide your decision.
Here are some design tips to consider and ask your designer or contractor about:
Swimming Pool Styles
Compare the four most popular pool styles:
Modern, Mediterranean, Traditional and Tropical
Small Space Pool Placement
In small backyard spaces, a pool often must be located close to or adjoining the house itself.
Pools close to the house are convenient and easy to watch over
They are an extension of the home's architecture and should reflect that in the design and/or shape
The pool deck should match or complement the colors and materials found on the home's exterior
Choose deck materials that blend with nearby paths or walkways
They can be noisy for occupants in the house if children are playing or splashing
Swimming Pool Placement - Destination Pool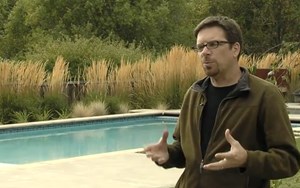 Time / 02:51
See how this pool was offset to the side to take advantage of full sun exposure, the view, and a diagonal yard space.
Large Space Pool Placement
There is usually more flexibility in the design and placement of a pool on larger properties. Although this can also lead to more choices and options which can be overwhelming. Here are a few tips:
When constructed away from the house, a pool can become its own destination zone
It can have a larger deck that makes entertaining easier and makes the pool more of a focal point
Freeform designs usually work best because they complement the natural surroundings
Pools set back from the house should still be visible from the house
Pools set back from the house open up the yard, creating more opportunities for outdoor rooms
Pro Tip: "Almost no garden space is too small for a swimming pool, though it may take some engineering and design creativity to make it work."
Here are some suggestions:

Place the pool right up against the edge of the property
Dig into a slope and build a retaining wall to acquire more room
Use multiple levels in the pool design to create a sense of depth
Employ a variety of textures and materials to create a perception of bigness

- Catriona Tudor Erler, author of Poolscaping: Gardening and Landscaping Around Your Swimming Pool and Spa