Front Yard Garden Makeover Ideas
Professional tips on how to makeover your front yard
Front Yard Landscape Design
Time / 02:35
See how this front yard was designed to include a new entryway, small lawn and a front patio.
Is your front yard overgrown? Do you dread mowing your large lawn? Are you wishing that your home had more curb appeal? Sounds like it's time for a front garden makeover. Check out the real life projects below, and our gallery of front yard design photos, for ideas on transforming your front yard into a pleasing and inviting space.
See 4 ways to turn a front yard into an outdoor entertaining space.
Use Walls to Emphasize the Entrance and add Privacy This front yard was typical for most residential homes - a lot of lawn and rarely used. The homeowners hired Ive Haugeland, a landscape architect, to makeover their front yard. She was able to think outside the box and create a unique and inviting front yard that actually gets use. Concrete stairs and board formed walls were used to emphasize the front door and entryway. Additionally, a semi-private walled patio was created around a mature existing shade tree. For a final touch, ornamental grasses, which use less water than a traditional lawn and create interesting seasonality, were planted.
Entryway Steps & Courtyard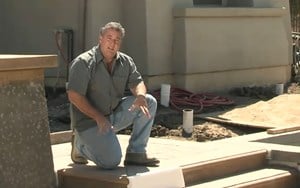 Time / 02:26
Learn from the design consideration for new steps that create a grand entryway in this home's courtyard.
When approaching your own front yard makeover you'll want to think about what aspects of your home you should emphasize as well as how you can turn it into an outdoor space that will get used. If you plan to spend time relaxing in your front yard privacy is a key consideration. Privacy can be created with walls or a planted screen.
Create a Grand Entrance with a Wide Walkway & Arbor This home is in the process of having its front yard remodeled. When garden artisan Scott Cohen accepted the project the front yard was covered in dead plants and weeds. It also had a very narrow walkway leading to the front door, which Cohen calls a duck walk because it forces guests to walk in a single file line like a family of ducks. In order to create a more grand entrance, the walkway was widened considerably. The new walkway is made of pavers with cast-in-place concrete steps. The front entrance of the home was also emphasized with pilasters and an arbor that marks the transition into a courtyard that will eventually have a fountain.
When remodeling your own front yard consider ways that you can make your home seem like an inviting destination. A good place to start is by thinking about the arrival experience created by your home's entryway design. Also make sure that the design and materials that you select are in keeping with the architectural style of your home.
Front Yard Design Ideas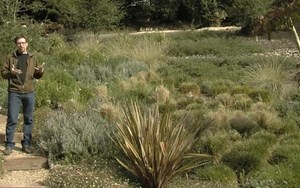 Time / 01:20
See how this challenging front yard was transformed into a meadow with a gravel walkway, ornamental grasses, and oak.
Lose the Lawn in Favor of a Meadow Instead of opting for the traditional front lawn, this family decided to go for a regional feel by creating a meadow. In order to achieve a high interest look, landscape architect Joseph Huettl selected a variety of ornamental grasses and ground covers, as well as some lavender and other plants for color. A crushed rock path with timber steps leads from the driveway to the families own backyard vineyard. This path has a very natural look that blends well with the meadow-like planting design, plus it is incredibly cost effective. This front yard meadow also features dry-stacked fieldstone retaining walls.
If you are considering losing your lawn as part of your front yard makeover consult a landscaping professional. There are a variety of methods for either removing or killing a lawn; a professional will be able to assess which approach will be most successful on your property.