Outdoor Deck Size Tips
How to determine the size and height of a deck
Swipe to view slides
Raised Ipe Wood Deck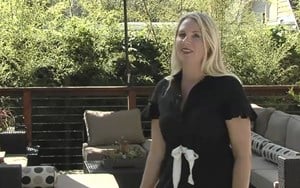 Time / 01:45
Watch how this large ipe deck was sized to accommodate a grill, a lounge area and dining table.
A perspective drawing showing a multi-level deck with 375 square feet (25' x 15') of space.
When determining the right size for your deck you'll need to consider three things: how you plan to use the deck, the number of people it will need to accommodate and the size of your patio furniture, hot tub, grill, etc. It is important to consider a variety of deck plans before moving ahead with construction.
Average Deck Size
A small deck intended to hold a round dining table should be at least 12 feet by 12 feet, while a large deck can be designed with much more space. The average deck size is between 300 and 400 square feet. Generally, a deck should be wider than it is deep, with the longer dimension running along the house. With large decks, consider making them multi-level designs. This will help break up the look and designate areas for certain activities.
Pro Tip: The typical 10' x 10' builders' special deck is completely useless. I wouldn't build a deck less than 15' x 15' at minimum. I've never had a single client who wished they'd made the deck smaller.
—Chuck Edwards of Breckon Land Design Inc. in Garden City, ID.
One of the most common mistakes is to install a deck that is out of proportion with the house. A deck that is too large can dwarf your house, while a deck that is too small will get lost. There's a general rule of thumb that a deck should be no bigger than the largest room in your house.
Determining Deck Height
You'll also need to factor in the height of the deck. A deck should be built within two inches of the bottom of the access door. This means that it will need to be made whatever height brings it to this point. If your home is built at ground-level you'll need a low-elevation deck. If your home is raised, you'll need a mid-elevation deck. If you have a split level home or want a second story deck you'll need a high elevation deck.
Water Drainage Systems
If you've decided to hire a contractor to build a high-elevation deck, then you have the option of using the space underneath the deck as an additional outdoor living area. For this to be an option you'll need at least 8 feet of space underneath the deck. You can create shaded and sheltered patio area underneath the deck (even with screen walls, if you wish).
In order to take advantage of an under-deck area, you'll need to have a contractor install a water drainage system. A water drainage system will keep the space underneath your deck dry during rain storms.