Raised Ipe Wood Deck
See how ipe wood was used for a raised deck off the back of a house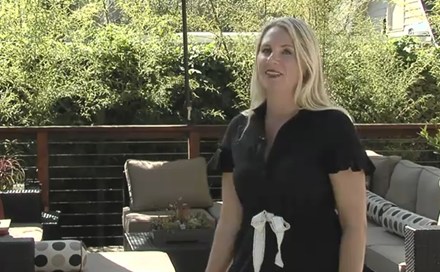 A video transcript featuring Ive Haugeland, Shades of Green Landscape Architecture
The client wanted a big, roomy deck outside the house, so they could use it for entertaining and cooking and lounging, so we did this deck, and it is 18 by 35 feet. It contains an outdoor grill, it contains a bar, a bar desk, and it has these planters with herbs in them, it has a big lounging area and a dining table.
Deck constructionThe material for the deck is ipe, which is a very hard, very long-lasting material and it's a beautiful wood. This deck is kind of high up because we wanted it to be the same level as the indoors of the house, so we also had to consider the stairway down to the rest of the garden. We made that kind of wide and gracious, and it's flanked with these two herb planters on the sides.
Choosing patio furniturePatios can work in all kind of sizes. I think it's important to think about the furniture. If you have a big space, you can afford to put in bigger furniture. If you have a small space you might want to go with smaller furniture.