Defining Outdoor Rooms with Free-Standing Walls
3 ways walls can be used to create distinct areas within your yard
Low walls surround this outdoor cooking and entertaining patio, providing seperation from the rest of the yard. Green Scapes Landscapinhg in Colorado Springs, CO.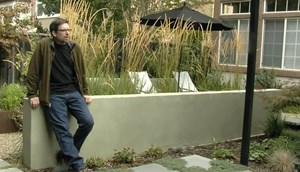 Landscape Garden Walls
Time / 01:56
Watch a landscape architect explain how he selects garden wall height and materials.
Free-standing landscape walls are one of the many tools professionals use to define outdoor spaces. When faced with a large yard that needs to be broken into distinct spaces, a well-placed wall can work wonders. Small landscaping walls are often used to create a sense of enclosure and intimacy, without blocking views.
Creating Outdoor DestinationsWhen designing outdoor rooms, it is all about creating a series of destinations that draw people out into the yard. Landscape architect, Ive Haugeland, of Shades of Green Landscape Architecture, uses low garden walls, often called seat walls, to frame patios and provide informal seating. Seat walls can also be used in conjunction with a pergola, creating a custom base, as well as providing additional seating. Adding seat walls to either side of an outdoor fireplace is another popular way to define an outdoor room.
Directing TrafficFree-standing walls can also be used to direct traffic through a landscape. Scott Cohen of The Green Scene, a landscape design and construction firm, frequently uses walls for what he calls wayfinding. This is the process by which people find their way from one area of a garden to the next. Cohen says that walls can be used to give people subtle clues on how to navigate through an outdoor space. For example, openings can be placed in a wall where you would like people to enter or exit an area. Alternatively, two walls can run alongside each other, creating a sort of outdoor hallway.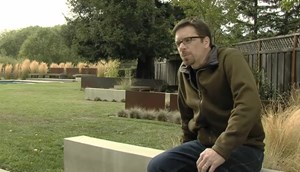 Landscaping Wall Ideas
Time / 03:12
A series of low landscaping walls were used to redirect the eye to various focal points
Emphasizing Focal PointsAnother way walls can be used to define outdoor spaces is by leading the eye to various focal points. For instance, in a large backyard, landscape architect Joseph Huettl used a series of landscaping walls to redirect the eye to the swimming pool and fire pit seating area. Additional uses for walls are as a backdrop for a fountain or sculpture, as a way of securing the perimeter of a property (like a fence), or to mark a transition from hardscape to softscape.
Keep in mind that using walls as outdoor space definers is typically more successful when you are working with a large area. If you have a small yard use walls sparingly, or not at all, because they break up space rather than visually expanding it.
Additional ideas for defining outdoor rooms:
Place a roof over head by installing a patio cover or pergola
Vary the paving material to provide visually distinctions between different outdoor rooms
Utilize elevation changes - raising, or sinking, a patio will clearly designate it as a destination