Landscaping Walls—Design & Materials
A series of low landscaping walls were used to redirect the eye to various focal points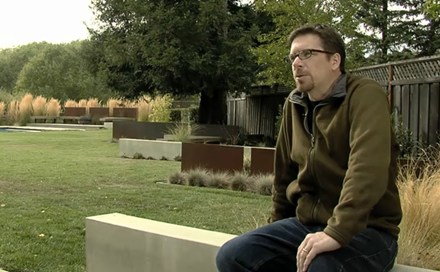 A video transcript featuring Joseph Huettl, Huettl Landscape Architecture
In this project, one of the problems we had was that all the windows out from the house were looking straight into this diagonal wood fence, and as typical we were screening that with some shrubs but it was still not really something we wanted. We needed to redirect the eye towards the destination, so we did that with a series of jogging walls that are parallel to the house that are both an interesting element to look at but also sort of a visual cue to bring your eye over to the pool destination.
Using contrasting materialsOne of the materials we wanted to use was this Corten steel. When it rusts up, the rust colors really go well with bluestone, which also has iron in it which rusts in spots. And the contrast between the Corten steel, the bluestone greens and grays and rusts, and then this southern moss and really subtle green-gray steel-trroweled stucco was something we really liked. We played originally with the idea of just having all stucco walls and it wasn't really interesting enough, and just all Cortens walls didn't really seem to be doing it. But when we did the variation and had them alternating, that seemed to work pretty well from an aesthetic standpoint.
The destination walls behind the terrace side of the pool are these tall Corten walls, which were economically very comparative to doing, say, a stucco wall. And yet we had a nice, unique material with a very rich palette, and so once we determined to have those, we wanted to carry it through. So with the Corten steel walls, you'll notice that they have little divisions in them, and part of it was an aesthetic decision and part of it dovetailed with an economical decision. These panels typically come in a 4-foot by 8-foot sheet, and so a good dimension to work out is usually an increment of 4 feet so you can cut them to 2 feet or cut them 16 inches. And then working with that 8 feet, we didn't want to have any welds, so we just had these separations but they looked very purposeful because we alternated them, and it actually turned out to be a nice feature in the end.
Wall constructionSo these walls, what we do with these panels is we drill through the bottom of them and insert rebar through that and then we prepour a base footing to a certain extent. And then we set these in there with the rebar connecting to the other rebar that's in the footing and then we pour it solid. So these are not just dropped in the concrete. They're actually connected in there with the rebar that goes through the holes in the bottom of them.