Bay Area Backyard Landscape Design - Video Tour
Watch videos explaining how this California backyard was designed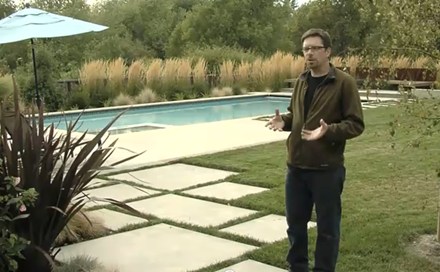 Join Joseph Huettl of Huettl Landscape Architecture, on a video tour of this backyard he designed for a family in the California Bay Area. Get backyard ideas and expert tips as he explains the process behind designing and selecting the materials for each feature in this yard. Highlights of the landscape include a raised millstone fountain, an economical outdoor kitchen, a concrete patio with bluestone bands, stucco and Corten-steel walls and a lap pool with an automatic cover.
Homeowner RequestsAt the start of this project, the homeowners had a specific vision of how they would like to utilize the space. They requested that Huettl focus on making their backyard a place where their kids could play, they could do some outdoor entertaining and they could go for a swim during the summer. These requests were turned into three distinct areas of the yard: the pool area, the lawn area and the patio area.
Design DilemmasAlong with the excitement of creating a new space for the family, came a few design dilemmas. First, was that the property had some existing birch trees which would need to be worked around. Second, was that there was an awkwardly angled wood fence that dominated the views from within the house. Third, was the desire to keep the new pool from overwhelming the rest of the yard.
Creative SolutionsHuettl was able to creatively implement solutions that gave the homeowners what they wanted and resolved the design dilemmas. First, he placed a lap pool far out in the yard to create a destination, and allow other parts of the yard to serve as focal points. Then, he created a unique patio layout that worked around the trees. Next, he used a series of low landscaping walls to direct views away from the fence and towards focal points such as the pool and fire pit seating area. Finally, he planted ornamental grasses to soften and screen the edges of the property.
Final TouchesTo complete the yard, Huettl carefully added extra details and meticulously combined materials. A millstone fountain was added to the patio to provide ambiance and a focal point closer to the home. A small outdoor kitchen with a built-in grill and refrigerator makes cooking possible. Intersecting bands of bluestone were added to the concrete patio to create additional visual interest. And Corten-steel screens were placed throughout the yard as a contrasting material to the bluestone.
Joseph Huettl is a licensed landscape architect who operates a design/build firm. For over twenty years he has been creating beautiful landscapes throughout the San Francisco Bay Area and Northern California.
Get more ideas for Northern California landscaping
Submit your project to LandscapingNetwork.com
Contributing Author:

Sarah Hutchinson, contributing writer for Landscaping Network