Budget-Friendly Outdoor Kitchen Ideas
Get tips for designing a simple, functional outdoor kitchen on a budget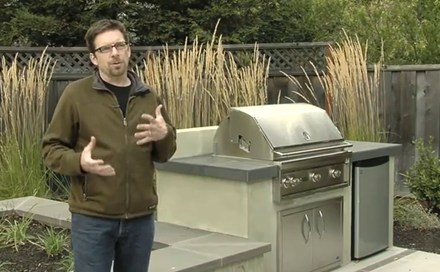 A video transcript featuring Joseph Huettl, Huettl Landscape
This outdoor kitchen area was part of the program, but the homeowner did not want to make this a large, egotistical outdoor kitchen that doesn't get used. It was basically functional, and we didn't want to have it off to the side so it wasn't dominating the landscape. But it's relatively close to the indoor kitchen, which is important for bringing food in and out and it does have a refrigerator, which is convenient for drinks and things and storing, perhaps, the barbecue stuff before you barbecue it. It does not incorporate a sink because getting plumbing back through to the sewer hookup was not really feasible, and that's often the case in a landscape situation where you just can't really get the plumbing.
Kitchen components and materials
We did a relatively modest barbecue counter, a pretty good-sized barbecue itself, and then for the barbecue counter material we went with a slate, which is just 16-inch slate so we have fewer grout lines than we would with a 12-inch or 8-inch slate. But it's still an easy material to work with, very flexible, doesn't take a lot of preplanning, as it would if we were to do a slab or a cast-in-place concrete countertop, which we have also done.
With an outdoor kitchen one of the considerations would be the ease of maintenance for the materials. In the old days, I remember we saw many outdoor kitchens where they'd use a wood underlayment for the surface. We usually use CMU block for the structure. Whether we do a finished concrete countertop or slate or some other material, we don't incorporate any wood. It's always reinforced concrete, and therefore it's never going to rot, never going to combust.
For the surfaces themselves, you'd want to generally avoid a lot of grout lines because in the outdoors a lot of leaves and things can stain that, a lot of water issues. For the units themselves, stainless steel seems to be very popular. It doesn't ever rust, doesn't chip or flake. Some people like to do a lot of side burners and refrigerators and storage drawers. I find that keeping it simple is often best. Some of these storage areas just become spider hideouts and aren't in the end used that much and aren't worth the expense.