Modern Patio Design
See how concrete, pea gravel, and decomposed granite are used on this patio to create a modern look.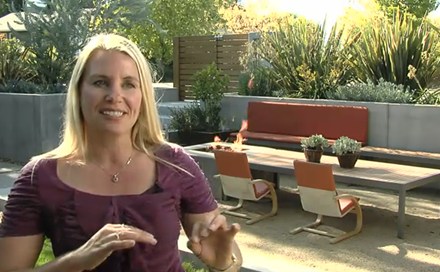 A video transcript featuring Ive Haugeland, Shades of Green Landscape Architecture
Approaching the house, you go through the little gate at the street level, and then you come down the stairs, and then you come to this area where we did cast-in-place pavers with gravel in between. We wanted to get a really contemporary feel here, so we used these pavers in different sizes. We used the gravel for the texture, and the concrete edges are what bind everything together.
Blending the entrance with the garden
We wanted to make the entrance area with the pavers wide and gracious enough to be a nice entrance, but we also wanted to incorporate it as a part of the garden using the same pattern and language, so it's part of the garden, and it's also kind of a porch.
Learn more about this Modern Front Yard Remodel.