Modern Front Yard Remodel
Watch how this front yard was remodeled to incorporate a fire pit, dining area, lawn and more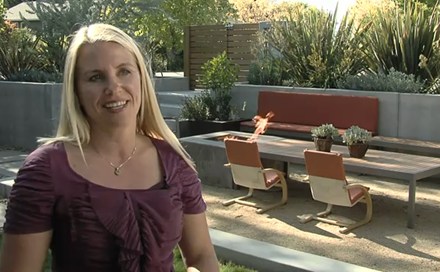 A video transcript featuring Ive Haugeland, Shades of Green Landscape Architecture
This garden is a front yard, and it's a unique approach to a front yard because it'll also act as the outdoor living space, since this house doesn't really have a backyard. So the front yard here has to serve a lot of purposes -- as the entrance to the house, for curb appeal, but also as the lounging area and the outdoor dining area and play area for the kids.
Screening for privacy
The main incentive was to screen it from the street, so we built up retaining walls along the street that have plantings on top. We used the Phormium Tenax, which is a big green phormium, as the main plant for screening. In order to make this front yard work, we had to excavate a lot of materials because it was just a slope down from the street to the house, so we did it in two different levels. The upper level has decomposed granite paving, and it has a fire pit and a dining area, so it's where you would hang out. The lower area is a little lawn and the big pavers that lead you to the front door. The planting in general consists of strappy things, like Phormium Tenax and Phormium Firebird. For a different kind of yellow there are kangaroo paws. There is Senecio, which is bluish. There are different aeoniums like mint saucer and other types, too, and we have a little water feature that gives off a nice sound. It's a great place for kids to play and for the grownups to hang out. And the shade by these two big trees was here from before. Also the retaining wall up to the street and the plantings create a lot of privacy.
Learn more about this Modern Front Yard Remodel.