Large Yard Landscaping Ideas
See how an existing yard is turned into a contemporary space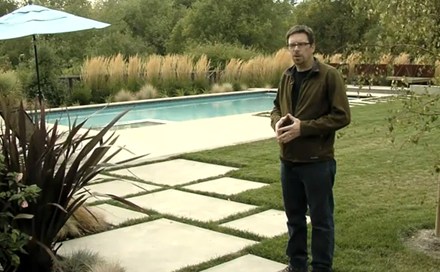 A video transcript featuring Joseph Huettl with Huettl Landscape Architecture
Design goals For this project, we had a family with three kids, and they wanted an active landscape that could be utilized for play and outdoor living. They had an existing large lawn. They had some existing trees that you see here. They had a big deck off of the bedroom that didn't work well. They wanted to bring a pool into the yard, and change things around. And they just wanted to make the yard more cohesive.
Landscaping solutions We kept a fairly large patio. It was downsized slightly from what they had. We created a new outdoor barbeque area. We worked around their existing birch trees and redwoods with the layout. And we located a pool towards the far end of the yard where it would have the most sun and where the pool wouldn't dominate the yard during the off-season.
Learn more about this California Bay Area backyard.