Front Yard Design Ideas
See this front yard transformed into a meadow with a gravel walkway, ornamental grasses, and oak trees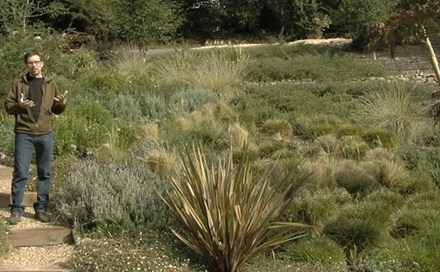 A video transcript featuring Joseph Huettl, Huettl Landscape Architecture
For the front yard of this project, we wanted to do sort of a regional feel, and regionally here you have a lot of oak woodlands with grasslands, and so we wanted to create more of a meadow, but a meadow that's more interesting than the indigenous meadows that are around here.
Plantings
We have a combination of ornamental grasses, groundcover, clumping grasses, lavenders, things to provide a little bit of color, and that provides a nice, natural, base in here. This is a great thing to come out to in the morning from the front yard - from the front door.
Pathway
We created this simple path of crushed rock and timber steps. It's one of the lowest-cost types of paths you could create and bordered by hill stone. The path is a way to get around the entire hillside, over to the backyard, through the vineyard.