Landscaping Process & Layout
Learn about the key factors in landscape design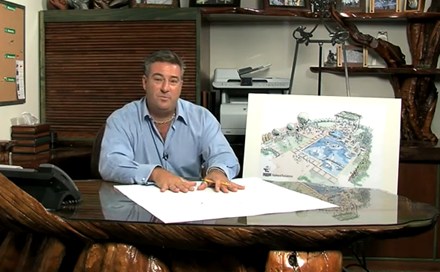 A video transcript featuring Scott Cohen, The Green Scene
Welcome to my creative workspace. My desk and office here are actually made entirely out of recycled tree trunks and stumps that we've pulled out of yards over the years. It makes for a fun place to do my job, which I enjoy quite a lot. The first step in designing a landscape and hardscape is to take what we call a plot map or a top view of the property. This is to scale, and scale means that for each inch on this plan it's about 8 feet on the property.
Start with a 'bubble' planAs we design this space, we're taking into account what would actually fit on the property. We take this plot plan, and we need to take into account all the aspects of the site, all the site conditions that become design parameters for your architect or designer to work within. For instance, we need to consider the drainage on the property, the sun and shade, different screening issues, privacy issues from neighbors, where we get the greatest view from the home. Those are all taking into account in what we call a bubble plan. So when we start we say, "We need to screen this area. We've got a nice view from the front yard. We'll want to consider that. This is a wet spot in the yard. Water seems to build up over here. We've got terrific views of the mountains over in this direction." And that's what you start with - a bubble plan.
Refine the designThe next step from a bubble plan is to work on refining the design based on the needs of the client. For instance, how big do the patios need to be? Where are the doors and exits from the house? What's the flow of traffic going to be through the yard? Where are guests going to go? Where's the best place placement for the outdoor kitchen? Do we need shade, shade covers, pavilions, pergolas, that sort of thing? And I'll lay that out to scale and take patio sizing into consideration depending on the amount of entertaining that the client does. Once I've got that laid out, I'll hone that plan to match the architectural theme that we were after, and once I've got that laid out into what we call a concept sketch, we'll turn that into a perspective drawing.
Perspective drawingPerspective is a side-view drawing - like this here - where we show that same plot map design that we have, that concept, in a side view. Some people are more visual than others and we find that a side-view perspective is very helpful in conveying the ideas to the clients, give them an idea exactly how that's going to look. And you'll find that we're very vague in material selection at this stage. We want to be careful not to scare the client away by showing brick if they don't like brick and showing flagstone if they don't like flagstone.
Putting the elements togetherIn this particular design, we have a back pavilion or patio cover that's freestanding behind the spa, and I use that placement there - the house is in this direction - in that pavilion to anchor the backyard space. We've got a big, open hillside beyond, but the views aren't really terrific. So this helps anchor the back space and it gives shade adjacent to the spa, which is nice. The spa is raised 18 inches, so it gives us a nice spillway down into the pool. Anytime I'm designing a pool and spa, I need that spa to filter a little bit each day. By raising it a few feet over the pool, I get a nice benefit of a waterfall running each day using the same energy I would use just to filter the pool anyway.
I broke this space down at an angle. Because on this particular property, there's a large retaining wall here and I wanted to soften that. So I softened that with stepping down that area. I've got taller plans in the background, accent plantings in the front, and then I've got potted plants in front of that, and then I stepped down to water features there. That softens that back wall and gives us something a little decorative to look at, and then, of course, water features add a sound element to the backyard as well.
This has another patio area on the side. What we find is that people have a tendency to break into smaller groups, and one of the mistakes I see made in a lot of designs is where they put just one large patio at the backyard. One large patio isn't really how people hang out when they entertain. They break into smaller groups of four to six people. Someone's talking about Facebook. Somebody else is talking about the deal they got at Costco, and then there's always Uncle Bill telling you that same joke over and over again. So we break up space into different outdoor yards and each patio would be sized to accommodate a table and chairs, or lounge chairs, or a bistro set, or something along those lines.
In this case, I broke the grade with a seat wall. The seat wall is set at 18 to 24 inches. That's a great way to break up space, and to find space, and to add entertaining seating. It takes about 1 ½ to 2 feet for each space you want to leave for a person on a bench, and you can add seating with concrete block walls that are stuccoed or veneered with stone.
I've got stepping pads that carry us from this patio area to the other, and this is called wayfinding , where we use these pads with greenery in between to welcome you from one area to another. It encourages traffic. The patio at the back of the house is important because this is where we step out from the property, and we have a shade cover that covers this area to help block the morning sun that comes in the window.
When you have a yard like this, look at all the friends that have come over to play with you in your new, entertaining backyard. That's the process from top to bottom when you're designing the ultimate backyard space.