Landscape Design - Material Selection Tips
Get tips for choosing landscape materials for pools, patios, outdoor kitchens, and more.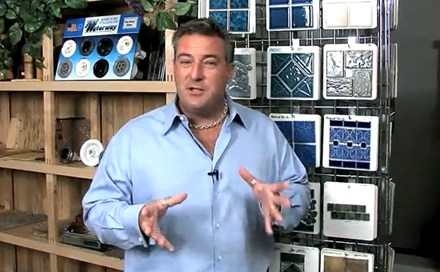 A video transcript featuring Scott Cohen, The Green Scene
When you're working with your designer, you want to make sure that you're taking into account how all of these materials are going to coordinate - the different tiles you might use on a pool or a fountain, how they'll match with different moldings, grout colors that you'll use, what color drain caps might be considered in the patio. All of these things actually need to come into account, and it's a good idea to think about it ahead of time because how you put all that together will change the flavor of the project. Material selection is very important.
Recently in a project in Camarillo, we built an over-the-top vanishing-edge pool with all glass tile, travertine coping, travertine pavers, cast concrete countertops, and molding on the house. What we did is we chose a cast concrete that had crushed glass that matched the color of the glass that we used on the pool tile. We chose a molding that matched the stucco color, but also coordinated well with our travertine coping that we used on the pool. The travertine coping was handmade for us and fabricated out of travertine with a nice bullnose-edge detail.
HardscapingLet's take an opportunity now to take a look at how all of these materials come together onsite. On this project, I used authentic travertine stone pavers for my hardscape materials. These are nice and thick and actually quite heavy, and a nice upgrade over a standard concrete paver. When we want to coordinate with the travertine coping, travertine caps here, we've got travertine one-by-ones surrounding this. And I've got a trim tile around my fire water features that's a laser-cut inlay of a dark walnut travertine with a light vanilla travertine. Travertine has come down in cost over the past few years and it's actually a pretty viable option on a lot of projects. Consider spending just a few dollars more and upgrading to real stone for your patios.
Pool and spaThis pool and spa are all glass tile. Top to bottom, every single inch of this pool is covered, over 2,200 square feet of 1 by 1 inch glass tiles. The spa is what we call a perimeter overflow, and it spills over all the edges. It gives us a nice, reflective edge detail, and it's a vanishing-edge pool. We have the views beyond of the orchards, and the mountains, and hillsides around this area.
Concrete countertopsThe counters here are split level. This is at 36 inches. This is at 42 to 44 inches in height. The cantilever is out 10 inches, which is room you need for knees. These counters are made out of cast concrete, and they've been hand-seeded with crushed glass in a combination of amber, blue, and a little bit of green glass. It's been polished smooth. It makes for an easy-to-care for outdoor counter.
As you can see, we've taken this boring backyard and turned it into an over-the-top resort style backyard for this client. People are always asking me, "What's your favorite project, Scott?" And you know, it's always my next project that will be my favorite