Gas Fire Pit & Misting System
See how this gas fire pit was incorporated into this yard in conjunction with a misting system.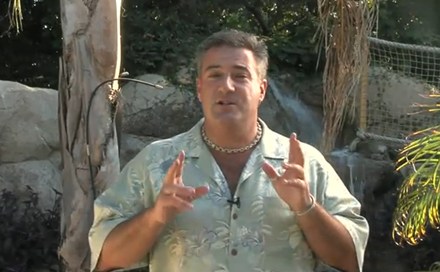 A video transcript featuring Scott Cohen, The Green Scene
Misting system
This backyard has over 100 misters in it, and that's high-pressure fog. We're using a 2,000-psi pump to create atomized mist, which helps cool you off, but it also creates a really cool effect around the water, almost like fog. I've got those misters built into the rockwork around the pavilion and around the seating area next to the outdoor fire pit.
Fire pit
An outdoor fire pit is something special. It's made with recycled crushed glass and cast concrete that's been polished smooth. And the fire itself burns large chunks of glass. It looks like pirate's treasure.
Outdoor lighting
This backyard is also lit at night, and when you light trees behind a pool, it creates an effect called "mirroring." It's a really nice lighting effect at night with pools and spas.