Front Yard Landscaping Approach
See how this yard takes advantage of amazing views and uses water-wise and deer-resistant plants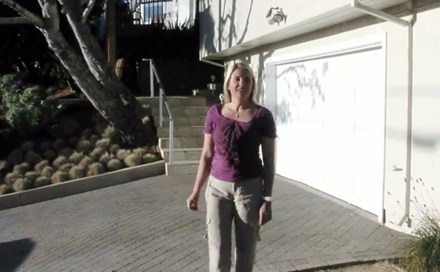 A video transcript featuring Ive Haugeland, Shades of Green Landscape Architecture
The front yard we've got here is kind of unusual because what you see from the street is the garage. So we made a nice little driveway with pavers. They are set in sand, so they are permeable.
The front door is on the back side, so we really had to show that the stairway is where you are supposed to go to come to the front door. To accentuate the stairs that go to the entrance, we put in new, nice pavers. We put in a railing. We put in a light.
Porch swing with a view
Halfway up, you can see there is a little landing with a swing. It also is something that creates interest. The clients had this swing before, and they said they wanted to incorporate it somewhere, and we found this little spot that has a beautiful view to the Golden Gate, so that's where we put it. It's also really nice under these big pine trees.
Deer-resistant plantings
The plant selection for the front yard was determined mostly by one thing: the deer. There are a lot of deer up here, and they'll eat a lot of stuff. So we did blue fescue, Pride of Madeira, and creeping manzanita. Those are doing well. It's a really hearty, drought-tolerant front yard.