Custom Fire Pit
See the construction of this custom fire pit that serves as a focal point in this backyard.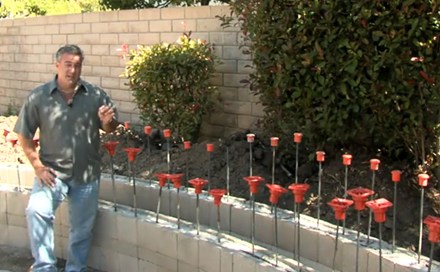 A video transcript featuring Scott Cohen, The Green Scene
When you're designing for smaller backyards, every inch of space counts. We call it ergonomics, and we need to consider just how much space a human being takes up, what the heights are for sitting, pathways, how much space we need for two people to be able to pass back and forth.
Install built-in seating
In this backyard, what I'm doing is anchoring the space with a large seat wall. A seat wall like this is going to add entertainment value because it's going to accommodate about 12 to 14 visitors. The cast concrete seat cap will go on top of these cinder blocks, and then we'll have a back rest that goes behind that. The back rest will be raised about 18 inches over the seating area, which is room for standard-sized cushions. At both ends, we're going to have pilasters, and those pilasters will be set at the height of a cocktail table, so that people can sit their drinks there. Above that, we'll have an arbor. That arbor is going to allow us a place to put some down lighting and some outdoor sound. We can place speakers up in that arbor.
Use fire features for warmth and ambience
So we're taking advantage of this smaller space. Now what are all these people sitting here going to be looking at? That's a good question. Right in front here, I've got a 9-foot-wide fire trough, and this is going to be filled with crushed, recycled glass and the fire is going to carry all the way across it, and it's going to be a really great effect, not only to enjoy in the backyard but from the house as well. As they come in the front door, they'll be able to see through the windows into the yard and see this fire effect. Fire doesn't just provide warmth. It also provides ambient light, and that light flickers and it just mesmerizes and relaxes.