Concrete Fire Pit & Seat Walls
See how this front yard fire pit was designed to accommodate a family with children.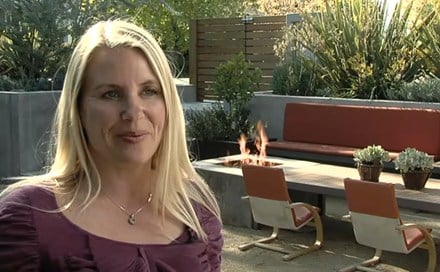 A video transcript featuring Ive Haugeland, Shades of Green Landscape Architecture
We placed the fire pit in the most central area of the front yard, with its back to the streets on the upper level there, so it's a really nice place to sit. It's a smaller fire pit just because it's a smaller area, and we wanted to make sure that there is enough space for seating around it.
Fire pit sizingIn order to place a fire pit like that you need at least 4 feet of space around it to place benches and chairs, depending on the size of them. Another thing with this fire pit is that we wanted to make it the same height and same size as the table, so when you put the lid over the fire pit it will all work as a long table.
Fire pit materialsIt's a gas fire pit, so it has a gas line from the house, and it's built of solid concrete poured in place. Inside, we put this fire glass, which is this crushed glass that can handle the heat of the flames, and it's in the same kind of orange tone that is the main color of this garden. The main reason for choosing concrete was we wanted to have that poured-in-place concrete look with the smooth finish, so we didn't have to do any stucco or anything.