Brick Outdoor Fireplace Design
See how this brick outdoor fireplace anchors an outdoor room and coexists with other entertainment features.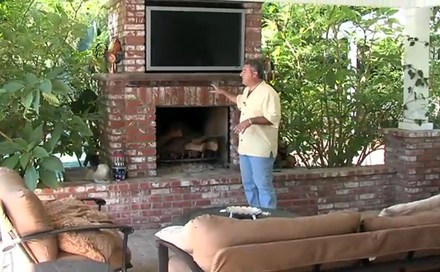 A video transcript featuring Scott Cohen, The Green Scene
I don't think there's anything better to anchor an outdoor living area then a nice, big brick fireplace like this. We use brick because it tied in with the other elements in the yard, different materials around the pool, the decking, and the bands and such, but it really has a nice, big, bold feel to it. We used cast concrete for the mantle. This houses a nice 42-inch outdoor television set. This set is actually designed to be outdoors and it can be rained on, but in this case it happens to be covered.
Built-in grillThis outdoor fireplace here, the client loves to cook and he loves to smoke ribs. So what we did for him was create a special Santa Maria-style grill. It actually lowers from inside the firebox so that you can smoke your ribs slowly over the smoking flames of some hickory or oak from below.
Outdoor seatingWhen designing an outdoor living room, keep in mind that people like to have couches and larger deep seating around their outdoor fireplaces, and not just a little bench or chair. Look at this outdoor living room set. It looks like it belongs indoors. That's what's happening to the outdoor furnishings. They're getting more and more expensive, bigger and bigger, with deeper and deeper seating. You need more patio space for it. Make sure you take it into account when you're laying out your outdoor living space.