Vanishing Edge Swimming Pool and Spa
A luxurious pool and spa is designed with a vanishing edge to maximize outdoor views.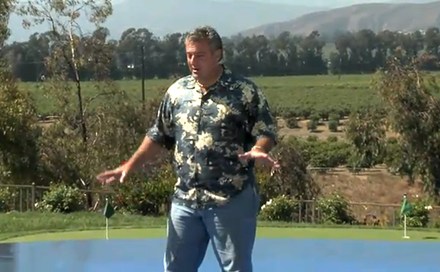 A video transcript featuring Scott Cohen, The Green Scene
We aren't quite finished with this outstanding pool and spa, but I'm actually standing on the edge of what's called a perimeter overflow spa. This whole project is glass tiled, 100%, on this pool and spa -- over 2,200 square feet of 1x1-inch glass tiles.
Special design elementsIn the center of this spa, we have a cocktail table and a pop-up fountain that comes up from the center. This spa is designed to entertain six to eight people, and it's even got a deep well here with six hydrotherapy jets, so you can get a massage all over your whole body.
We've got two fire bowls and water features on each side. The water spills down over these tiled spillways into the pool in a nice, large Baja shelf with room for four lounge chairs. And there's an umbrella stand right in the center, so you can get yourself some shade.
There's a great swim-up bar with seating for four underneath the shade of this pavilion.
Vanishing edge poolThis is what we call a vanishing edge pool. It gives us a nice reflective edge of the orchards and the mountain and hills beyond. You want to take into account the views from the home and the views from the neighbors as well. In fact, in order to give us privacy in this spa, here we built this pavilion structure and it blocks all the windows from the adjacent property.
On a vanishing edge pool, where you have these magnificent views, you want to choose those looks carefully. You don't want to put a vanishing edge pool up against a wrought-iron fence, for instance, because you just create a magical effect of wrought-iron fence all the way across the pool. These pools are called illusion pools because they show off whatever is behind them. You get a reflection across the top. Keep that in mind when you lay out your pool.