Tropical Backyard Pool & Spa Ideas
Watch Scott Cohen explain how he created this tropical style backyard pool and spa.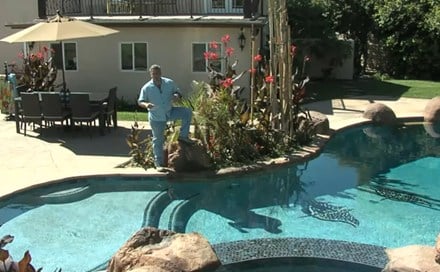 A video transcript featuring Scott Cohen, The Green Scene
When choosing the placement of the pool and spa in the yard, I chose this back corner so I could get them tucked up into the slope. That gave us a height to create a nice slide coming down the hillside and natural looking waterfalls. It's hard to make waterfalls look natural when they just come out of the middle of nowhere. Coming down off of a slope looks great.
Decorative Pool Coping and Lining This pool and spa and flagstone coping are combined with faux rock coping. That rock goes right down into the water. It gives it a real natural look. To create a lagoon-like look we used a pebble finish on the inside. But not just a regular pebble finish. This one's also mixed with glass beads, and that gives us nice reflection from the sunlight each morning and enhances the look of the pool.
This pool also has some whimsical tiles in it. We've got some manta rays and lemon sharks in the back, and a couple of lobsters and some clownfish swimming around the walls. It makes this pool a lot of fun for the kids.
A Baja Shelf for Lounging When interviewing clients about how they like to swim in the pool, some clients tell me they want to swim laps and a lot of people are just loungers, and they want to hang out and relax in the pool. What we've found is that people really like to hang out on that second step. What we do now is what's called a sun shelf or a Baja shelf, where we have a single step that comes down to a very large second step, and this step is large enough to set lounge chairs right into the water, so people can kick back with a favorite book. Little kids like it because the water stays warmer there and it's real shallow and they feel comfortable. And we also find that seniors enjoy it because the water stays still and it's also warmer in those shallow locations.
Roof-Mounted Solar Panels To keep a pool this size comfortable year-round, it's really helpful to have solar panels. We're doing more and more with solar panels on the top of roofs, and these are passive systems, where the water goes from one side to the other through black hose across a dark roof. As it does that, it heats the water and it can take that spa temperature up to 102 degrees, so it does a nice job. Solar panels like this can add 10 to 15 degrees over the ambient temperature to help keep your heating bills down.
Special Water Features This is an over-the-top entertaining backyard, lots of fun for the whole family. I'm sitting on the top of a 5- to 6-foot tall raised bond beam on the back edge of this swimming pool, tucked into the back edge of this slope. We've hand carved this concrete to look like rock, and it's been stained and painted to mimic the stones that look natural in this area.
Where I'm sitting right now, there's a jump rock where the kids can actually jump 6 ½ feet over the water line into the pool, which is a lot of fun. Behind me, is a 65-foot water park slide that goes all the way down the slope and shoots through this waterfall into the pool. Three separate waterfalls on this back edge make this backyard a tropical paradise.
I am garden artisan Scott Cohen, here, for LandscapingNetwork.com.