Backyard Spa with Therapy Jets
A therapeutic raised spa features foot-massaging water jets in the floors and a deep hydrotherapy well.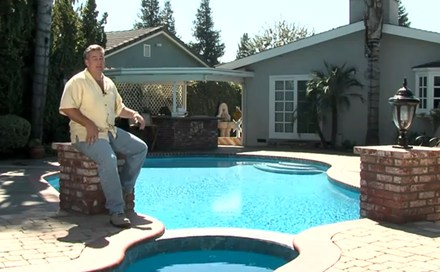 A video transcript featuring Scott Cohen, The Green Scene
This yard already had a pool when we started, but it needed to be remodeled. The plastering was old, and the client wanted to add a spa. Not just any spa, but a hydrotherapy spa. What I did is I chose to put the spa on the backside of the pool so I could lift this area up and have different levels in the backyard. I like to use steps and different levels to break up outdoor space and create that sense of different outdoor rooms. By raising the spa, I'm also able to get a waterfall from the spa down into the pool.
Massaging water jets
This is no ordinary spa. Most spas are just a regular round or square spa, and they have six or seven jets that hit your back in that one spot and, quite frankly, can become a little bit annoying sometimes. What I like to do instead is a seating area of the benches with about four jets, and then I'll put two jets in the floor, knowing that the quickest way to a woman's heart is to massage her feet. If you don't believe me, check with your spouse.
We also built a hydrotherapy tube, or a deep well. This is an area where you step down into the spa. Water comes up to your neck, and there are six separate jets that hit your body all up and down, so you get a whole therapy experience instead of just one spot on your back. That's how I like to do it, and it works great for entertaining because you can fit six to eight people in the spot comfortably.