Spanish-Style Pool, Spa & Rope Swing
Watch how this designer incorporated a spa, slide and rope swing into this Hacienda-style pool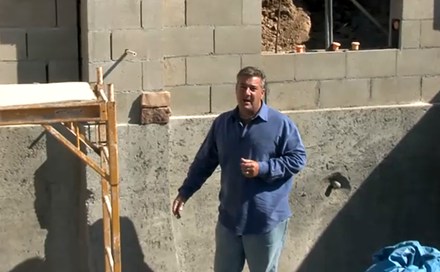 A video transcript featuring Scott Cohen, The Green Scene
On this pool and spa design, I tucked the spa back into the slope. By doing so, I was able to raise it up 3 feet, which is standard counter height, and it gave me the opportunity to put a swim-up bar on this side of the spa and a couple of stools inside the spa for people to hang out, play cards, have cocktails. By raising the spa, we ended up with a 3-foot-tall spillway spilling down. This will be tiled with 1- by 1-inch tiles in a mosaic that will carry water from the spa down into the pool whenever the spa is in circulation mode. That means it's running through the filter.
Get more tips for Spanish-style landscaping.
Pool design and materials
This pool is an oversize pool, and it's done in a Hacienda style. This pile of rocks in front of me here is for the back bond beam. We're creating four sections of what are called pilasters, and these are going to be veneered with this faux stone. It's actually a cast-concrete product designed to look like stone. What makes it great to work with is it's got this L-shape already cut into it so we can use that to veneer corners to have it look really nice and natural. In the center of each of these, they've been pre-plumbed with water. Water is going spray out of a cast medallion piece, so we'll have an interesting water feature across the back of this.
We've got an opening for a slide. We have about a 40-foot-long slide that cuts into the backside of this pool to send the bathers all the way across the swimming pool into the deep end.
Rope swing and tower
My clients came back from a vacation in Hawaii, where they had a great time out by the pool actually swinging off of a rope. The rope swing at that particular hotel was set up in a tropical motif, and it doesn't really work for a Hacienda backyard. So what I came up with here is a large bell tower that you can actually swing from; the rope hangs below the bell.
We have a 16-foot tower, we've got a 4-foot raised platform, and bathers are going be able to go behind the pool, jump onto that rope swing and swing across the deep end of the pool. It's going to be a lot of fun. We had to make sure we had proper clearance, and there's a lot of structural engineering that went into this particular feature.
Construction of this bell tower was no small task. The footing goes down 6 feet below the pool shell. The pool shell actually climbs 8 feet from there and then it goes another 16 feet above the pool shell from there. So it's quite a big tower. There's a lot of steel and concrete involved in this structure, and it's going to be a great time when it's all finished.