Small Swimming Pool with Automatic Cover
See how to incorporate an automatic pool cover, vanishing edge, and waterfall into the design of a small pool.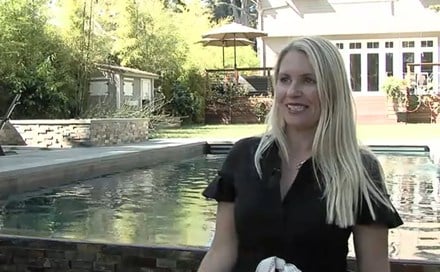 A video transcript featuring Ive Haugeland, Shades of Green Landscape Architecture
The pool here we had to juggle in between existing trees. We also wanted to make it centered on the house. This pool is not very big. It's 14 by 24 feet, but it's big enough for the kids to play and to cool down on a warm summer day.
Pool designThere is a pool cover that is retractable, so it's hiding under the pool coping. The pool also has these kind of big steps inside so you can sit in the very shallow water if you want. It's also an infinity-edged pool, so on the lower deck here where we stand the infinity edge acts as a water fountain.
Pool deck and copingFor the paving around the pool we used bluestone, and it is set in sand. The pool coping itself is obviously connected to the pool beam, so it's set in concrete. We also did a hot tub, which is over by the side. It has the same materials as the pool and the fire pit. It has the same ledge stone and the same bluestone coping.