Small Outdoor Kitchen Design
Get ideas for maximizing space in a small outdoor kitchen.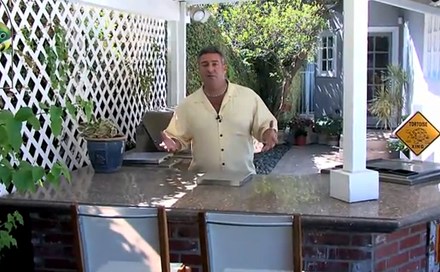 A video transcript featuring Scott Cohen, The Green Scene
This backyard actually has two outdoor kitchens; one here in close proximity to the house and another farther away for entertaining larger groups. Outdoor kitchen countertops can be made with granite or tile. I like to see them made, though, out of cast concrete, and what I do is I cast the concrete in place using a variety of different embedded materials; in this case crushed stone, but we can also use crushed glass. And then we hone and polish it when we're done with the concrete curing process. It makes for a very resilient counter that's difficult to stain and easy to clean up.
Beverage center
This outdoor kitchen has a barbecue. It has a side burner. It has a cutting board that's actually built into the countertop itself with a through-the-counter trash chute right below it, and it has a beverage center. This stainless steel beverage center works great for entertaining. I hate to see a client put a big Styrofoam cooler next to a beautiful outdoor counter. So instead, I suggest you put in a double-walled stainless steel beverage center. This holds your lemons, your limes, your oranges, and all your other accoutrements that you need for a bar, and you can pack it with ice for your drinks, and beer, and sodas, and that sort of thing. At the front, you've got a speed rail that you can use for holding bottles, spinning and flipping like Tom Cruise in Cocktail.