Retaining Wall Design & Seating Area
Watch this video to see how retaining walls were used as low seat walls to create a destination patio.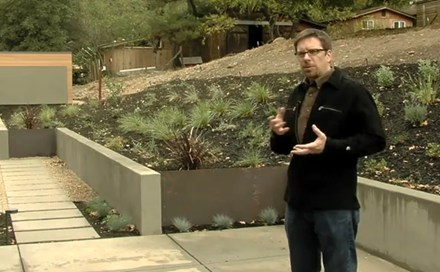 A video transcript featuring Joseph Huettl, Huettl Landscape Architecture
There was some discussion about whether to do retaining walls in this project, and I thought it would be a good idea to have retaining walls, low walls, and we decided to keep them at a 30-inch height, which can double as a seat wall and doesn't become such a barrier. We also did want them to just be this practical wall that's obviously there to retain the hillside. So the walls are set up as a series of parallel planes from the house, and for the perpendicular elements, we changed the material to a Corten steel panel so that provides a visual break to these otherwise fairly simple concrete stucco walls.
Patio locationIn this particular area, we made a raised patio just by stepping it up 1 foot from the adjacent patios. And then this patio, it takes advantage of a view out to the hills that way as well as looking back towards the living room. It's also a visual destination if you're in the house looking out, you see this place and you want to go here.
Retaining wall heightFor these retaining walls, we kept the walls below 3 feet in height. In a lot of jurisdictions, when you exceed 3 feet you generate engineering or permits. So in most places, you can go up to 36 inches without having to involve permits or engineering.
When you're doing a retaining wall, no matter what the height, you do want to factor in some forces of overturning from the soil pressure. You do need to have proper drainage and backfill on the wall. So even if you don't have an engineer, you'd still want to design a substantial enough footing to allow for the wall to last.