Raised Bed Vegetable Garden
Get ideas on vegetable garden sizing, irrigation, and materials that you can include in your backyard.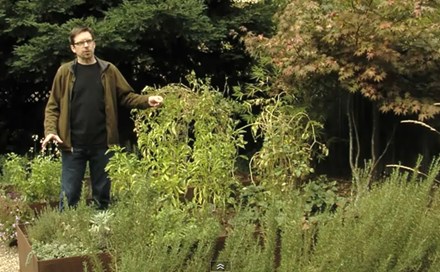 A video transcript featuring Joseph Huettl, Huettl Landscape Architecture
Part of the program on this project was to have a place for them to grow some vegetables, and we provided that with two raised beds. We decided as part of the modern aesthetic of this project to go with steel, as opposed to wood. But having the steel beds prefabbed offsite, the labor was really easy. It just allows the crew to come in and drop them in place and fill them with dirt and provide irrigation, so your overall cost is quite competitive with doing a standard traditional redwood raised bed.
Cost-saving tip
Usually, on a raised bed, you can vary it between 12 inches to 18 inches in height. With steel, 16 inches becomes sort of a determinate because steel panels are often available in 48-inch widths. So you can get three side walls out of one steel panel. If you design your steelwork to take advantage of average and common dimensions, you can reduce your project costs.
Irrigation system
To irrigate raised beds for vegetables, the best system that we've found is to have a hard pipe system of bubblers with multi-ports on them that the homeowner can then attach distribution tubing to as needed to fit the ever-changing strata of vegetables they might encounter.