Putting Green Design & Sizing
See how putting green materials were chosen and incorporated into this yard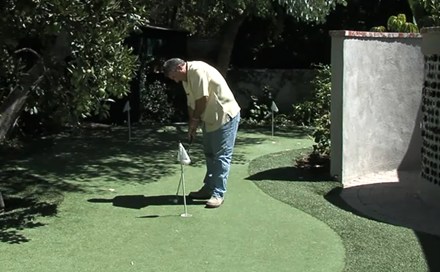 A video transcript featuring Scott Cohen, The Green Scene
The outdoor putting green is a great way to create space for entertaining the whole family. It's a lot of fun. We talk a lot about family fun and creating spaces where we have activities to get people to hang out in your yard rather than hanging out in somebody else's yard.
Artificial turf vs. real grass
In this case, a putting green may be a good choice for lots of reasons because we used artificial turf. Real grass was difficult here because we have deep shade and full sun and three large dogs, so using an artificial green back here meant we didn't have to use as much water if we didn't have the shade and sun issues, and we didn't have any difficulties with the dogs wearing out the space. We set this up with four holes. Now we've got a draught-tolerant space that's great for the whole family to enjoy.