Pond Design & Construction
See how this pond included integral waterproofing and left room for stepping pads and plants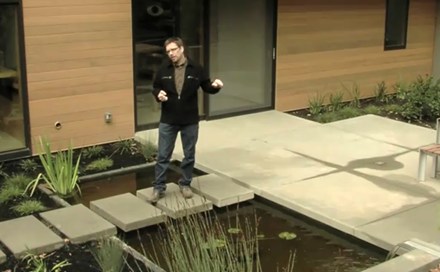 A video transcript featuring Joseph Huettl, Huettl Landscape Architecture
For this project here, we had this wonderful opportunity to have a kitchen and a breakfast nook, which has this large glass door that flows out. So we placed what you could call a breakfast patio or lunch patio or dinner patio. Anyway, it's a great little outdoor eating spot, and to liven that up and to psychologically cool it down on a hot day, we have this adjacent water feature. This water feature does several things. It cools both physically and psychologically the outdoor patio. It's a strong visual from inside the house, whether you're sitting down having breakfast, or even from the front door you can see through the glass of the house to this water feature.
Water feature designWe decided the water feature would be perpendicular to the house, to break this relatively narrow backyard. The more items we can do as a parallel and perpendicular to the house, the more we can get rid of what could otherwise sometimes be a bowling alley effect when you have a long, narrow yard. So by putting it perpendicular to the house and creating these stepping stones that you cross over, it really helps to break this space.
This water feature sort of attaches physically and visually to these parallel planes, these retaining walls we created, which are running parallel to the house. What's important about when you do a water feature like this is that you want to have the structure, the base of it, be structurally sound and you don't want any cracks to occur in the water feature, so you don't want to pour it in one pour with some of these other elements.
Construction detailsOne of the first things we had to do on this landscape project was to get this basin installed before any other hardscape elements went into place. So we came in here, we did the formwork, we laid in our piping, and then we poured this basin with the supports for these pads with a strong concrete mix (it was a 3,000-psi mix), and then we added a Xypex chemical additive to the mix that basically forms a crystalline structure within the concrete to make it waterproof. We also added black color to the concrete to give it a dark appearance so it wouldn't stand out too brightly once it's installed.
After we poured this base and it was set up and cured a bit, then the retaining wall footing actually stops and bridges over the wall of the water feature. So even though the wall looks like it's all one piece, if you look carefully there is a cold joint so if that wall ever had to move it shouldn't compromise the base of the water feature. Likewise, when the patio was poured and these stepping stones were poured, they were formed over the top as a separate pour so that if there is movement they should be independent.
In addition to that, you'll notice a fairly narrow profile in the perimeter. It looks like it's 4 inches thick, which it is at the top, but if you just go down 4 or 5 inches, it is a full 8-inch width sidewall, which is really what we would recommend for something like this. If you're doing reinforced concrete for the water features, we normally like to do 8 inches thick.