Patio Cover Selection Tips
See an open patio cover built with 4x4-inch lattice work that provides shade without trapping in heat.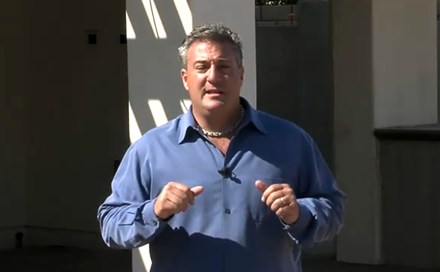 A video transcript featuring Scott Cohen, The Green Scene
Anytime we're discussing the installation of a patio cover, there's always a debate on whether it should be an open shade cover or a solid roof cover. The thought is that the solid roof will actually provide more cooling, and that actually isn't always the case. A solid roof cover actually traps heat. So the next thing we need to do, of course, is install ceiling fans to move air around and cool things off. The open shade cover is actually usually your best choice. What it does is give you some screening from the sun - I usually set for about 50 percent shade - but it also allows light into the house so it doesn't darken the rooms too much.
On this particular project, the client wanted to have a lot of shade. What we did is we put a 40- x 14-foot open shade patio cover at the back of this. We extended the loge that they had, which had a solid roof cover, with four-by-four lattice work on top of the rafters and beams. I cut the architectural detail to match the corbels that are on the back patio cover, and the posts for the patio cover itself are actually stucco columns to match what they had existing on the property.
The idea behind any of the work that we do is we want it to look like it was always part of the original plan and match the architectural style of the house.