Outdoor Kitchen Countertop Height & Sizing
Get tips for proper sizing and seat heights for a backyard kitchen countertop.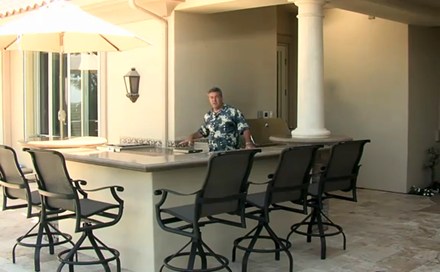 A video transcript featuring Scott Cohen, The Green Scene
What they wanted to have happen was to open it up and create a bigger space for entertaining in the backyard. What I did here is blow out the old counter, extend it around the corner here. I set up beverage service so that people can get to it easily. A through-the-counter trash chute is here. Most of our cooking takes place in this area, but then we've got this great prep-and-serve counter here. These round tables are cocktail tables. They're set at about 46 inches high, great for leaning on, hanging out, bellying up to the bar, and hanging out with your friends.
Countertop materials and sizingThe counters here are split-level. This is at 36 inches. This is at 42 to 44 inches in height. Your cantilever is out 10 inches, which is room you need for knees. And these counters are made out of cast concrete, and they've been hand-seeded with crushed glass in a combination of amber, blue, and a little bit of green glass that's been polished smooth. It makes for an easy-to-care-for outdoor counter.
Most platters are 9 inches, so you want to make sure your counters are at least 12 inches wide so you can use them for plating and serving and hanging out with your buddies and eating out at the bar. This counter up above is 2 feet deep. It's a little bit wider, so it can accommodate larger platters for prep and serve. We've got two 36-inch cocktail tables anchoring both sides of this bar counter. They're set just a little bit higher at 46 to 48 inches, and then they're veneered with an architectural stone.
Matching the existing architectureThe idea here is for our work to look like it always belonged here, not something that was added on later. We took our architectural clues from the house. The stucco is a smooth stucco to match the house that's here, and then we picked some of the architectural detail off of the detailing on the home.