Metal & Wood Patio Cover
Watch and see how this custom backyard patio cover made of metal and redwood was designed.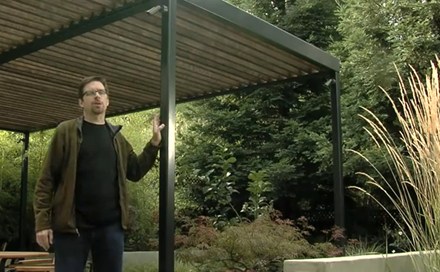 A video transcript featuring Joseph Huettl, Huettl Landscape Architecture
On this project, we decided to do a patio cover out of a combination of steel and redwood, and the steel has many advantages over wood, one of them being the lifespan of the steel and the fact that you can achieve a structural rigidity without using angled connections or overly heavy connections. You get a much lighter, airier feel with the steel. The wood, in this particular instance, provides a certain warmth that you would not get with a pure steel structure.
Patio cover design
This particular sunshade patio cover was sized to provide a nice outdoor dining environment for the main patio, and the post placement was dictated by the placement of the water feature and other elements. So, to make up for that, we were able to achieve a cantilever to shade more of the patio without having the post right in the middle of the water feature.
Assembly
The steel was sized appropriately to allow for the spans we needed, and it was manufactured offsite by a steel fabricator, and all the welding was done offsite. They provided us bolts and connections that we could then put together onsite with our own landscaping crew, saving onsite project costs.
The redwood was cut to fit within angle iron pieces that were already welded onto the steel plating, and the paint was a custom-mixed paint that we did at the hardware store, using a combination of black, gray and hunter green until we could get a nice, warm, nearly black color for the steel.