Outdoor Kitchen Design - Large Kitchens
Learn about the importance of not under-sizing an outdoor kitchen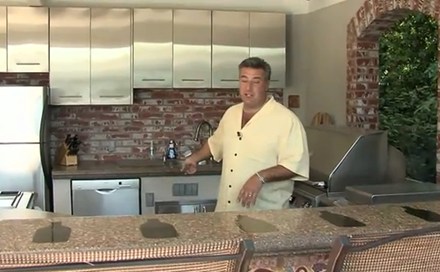 A video transcript featuring Scott Cohen, The Green Scene
To talk about outdoor living, this outdoor kitchen has it all: stainless steel cabinetry, a full-sized fridge, a functioning sink, dishwasher, garbage disposal, beverage center, Versa burner, Teppan grill, drawers, paper tower holders, an icemaker, a sear zone, and a full-scale barbecue grill with a smoker.
More and more people are entertaining outdoors. Don't undersize your outdoor kitchen areas. Make them large enough to entertain. When you have company over, people always head out towards the food. It's where they hang out. Think about entertaining in your own home. Folks are difficult to get out of the kitchen. Get them outdoors into your outdoor kitchen with a kitchen like this. Where else would you want to be?
Creating kitchen zones
An indoor kitchen, the ergonomics of it and what we call working triangles is very important, but outdoors you really have more space to work with, and we're not working in as much prep as we are in an indoor kitchen, so the space can be a little bit larger. For instance, we might have our prep and clean zone back here. We have our cooking zone over here. We have prep and serve zone here. We have cooking and beverage service, and then we have a bar counter over here. It's okay to keep these broken up a little bit, especially if you entertain for large groups. If you entertain for larger parties, you'll often have a caterer or a bartender present. We want to give room for two people to be able to work at the same time. So a counter like this works great for entertaining large groups.
Concrete countertops with wine bottles
I like to cast my outdoor kitchen counters out of concrete, and what we do is create a mold onsite, and we vibrate the concrete into the mold. In this case, we hand-seeded it with stone, and we melted wine bottles and placed those actually into the countertop while the concrete was wet. These are underfed with fiber optic lights, so at night they kind of sparkle a bit. It's a very subtle effect, and then after the concrete cured we ground, honed, and polished the concrete. It makes it pretty dense, so it's very difficult to stain and easy to keep clean. Of course if you're a wine connoisseur, there's nothing better than having wine bottles cast right into your outdoor kitchen counter.