Hillside Landscaping Ideas - Home Vineyard
Find out the benefits and drawbacks of landscaping a hillside by installing a home vineyard for grapes.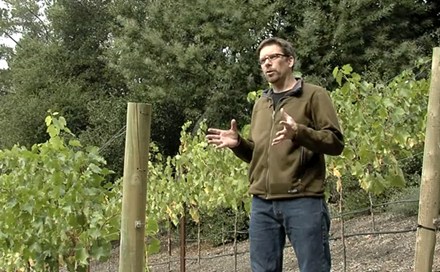 A video transcript featuring Joseph Huettl, Huettl Landscape Architecture
Part of the program for this project was to fit a vineyard in, and this west-facing slope turned out to be the perfect spot to place a vineyard. We sized the vineyard so that it would accommodate 100 vines, if possible, and to fit in this circulation path through the vineyard.
What's nice about these vineyards is if that you have these outside companies that specialize in installing them, they're actually quite price-competitive with standard landscaping if you have planting and irrigation otherwise. The planting and irrigation for the vineyard is fairly competitive with that.
One of the considerations, though, when installing these vineyards are the ongoing maintenance costs. They could get involved - to have somebody come in that knows how to properly prune the grapes and when to harvest them. That's part of why these companies can install them for the price they do, because of the ongoing maintenance that would be associated with it. But if you're a knowledgeable person and know how to do it yourself, you could take it on yourself.