Front Courtyard & Water Feature
See how a water feature was incorporated into the wall of a front courtyard to create a soothing entrance.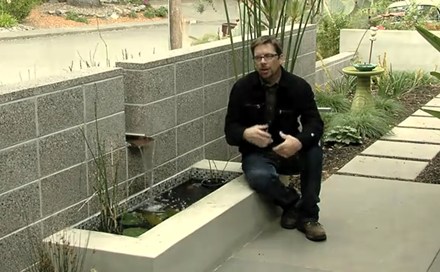 A video transcript featuring Joseph Huettl, Huettl Landscape Architecture
For this project, one of the main elements of the program was to capture part of the front yard and sort of privatize it, if you will. And that involved installing a wall that would be at such a height that it wouldn't create total enclosure, but when you're sitting down inside you have privacy from the street, and yet when you're standing up, you can talk to your neighbors that are walking by. So we really had to dial in to have a wall that would perform the way we wanted it to. At the same, the wall does not obscure this beautiful sculptural tree here that is also a key view out.
Patio materialsFor the patio itself, we went with an integrally colored sandwash-finished concrete, and we did two separate pours to achieve two colors. We have a medium-gray as well as a pebble or winter beige color that contrasts.
Water feature designAnother part of the program was to create a visual focal point and then provide some nice sound. The clients did want a water feature, which is what we frequently provide, and we explored some options. One of the options was to do a walk-across water feature that was off to the side, but the design evolved where we had incorporated a water feature with the wall, and so then we created this wonderful notch in the wall that had the water come up through that notch. You can see through the notch when you're looking at a water feature, and it provides a narrow window out to the street and, looking from the street, you see this notch in the wall. It creates a little sense of mystery of "what could that be for?" But otherwise it's a fairly straightforward water feature with minimal filtration, very finite size, and with some aquatic planting and a couple of goldfish to liven it up.