Contemporary Landscape Design
Tour a contemporary backyard landscape complete with a pool, swing set, putting green and outdoor kitchen.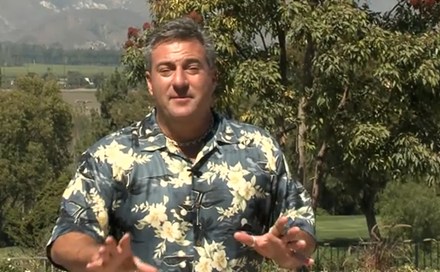 A video transcript featuring Scott Cohen, The Green Scene
When I was first brought into this backyard, it had a lousy, old-fashioned lap pool and no spa. And the grade dropped off on both sides, so there was no place for the kids to play. Now we've totally remodeled this backyard and turned it into a vacation paradise right off their back door. Our design included using the soil from the larger excavated pool to fill in this side yard and make room for a sandbox and a play set. We also added a putting green that pitches down to a much larger putting green, just like a miniature golf park has.
Pool and spa designThis pool and spa are all glass tile -- top to bottom, every single inch of this pool is covered, over 2,200 square feet of 1 by 1 glass tiles. The spa is what we call a perimeter overflow, and it spills over all the edges. It gives us a nice, reflective edge detail, and it's a vanishing-edge pool, so we have the views beyond of the orchards and the mountains and hillsides around this area.
Outdoor kitchen and pavilionWe added a balcony to enlarge the living space and to add more shade to the lower patios. We took out their old barbecue, which was completely nonfunctional, and we designed and built an outdoor kitchen that is dynamite for entertainment. Now the side yard, they had an issue with privacy from the neighbor's home. To solve that, we added this pavilion, and the pavilion blocks the view of the neighboring house, and it's going to house an outdoor fireplace that we're still working on building now. It's got a swim-up bar and another lower level patio area with another fire feature.
Fire featuresSpeaking of fire features, there are two of them flanking the side of the front edge of this pool. They're going to have fire coming out of them here, large fire balls, and these fill with water and then spill off into the pool, so we have fire and water combined. We've got a pool, a barbecue, a balcony, sandbox, play set, putting green, just about everything you'd want to have in your own resort-style backyard.