Bocce Ball Court Size & Materials
Tour a property where a professional landscape architect installed a large bocce ball court.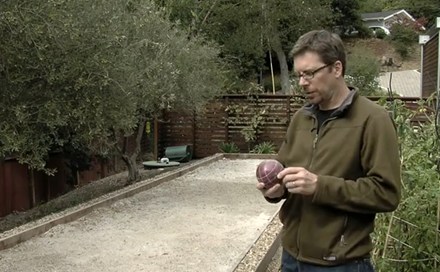 A video transcript featuring Joseph Huettl, Huettl Landscape Architecture
On this property, part of the program was to have a bocce ball court, if possible, and we located it on the side yard, where there's plenty of leftover space. We planted three mature olive trees to enclose the space a bit and also bring in that Tuscan feel. Even though it's a modern house, you can have modern and Tuscan. With a bocce ball court, there are different sizes that you can do, and regulation size would be a full 60 feet, I think, which this is not, but it's pretty close. And for casual bocce ball players, they really don't care that much about it.
Materials used
The bocce ball court has a base of crushed rock, and then on top of that we're doing an oyster shell, which is a traditional bocce ball material that protects the balls from getting too scratched up. For the perimeter, we did a unique construction technique that was pretty low-cost yet effective. We didn't cast any concrete. We just installed a redwood border as a bumper for the balls, and then we have a perimeter of rusted steel, a quarter-inch thick that we did not have to have fabricated onsite by anybody. We just got the steel strips from our steel manufacturer, and our own crew was able to drill them, stake them, score the corners to bend the corners, and then cut off the leftover as we needed. And then between the steel and the redwood, we just filled that in with a Lodi gravel, which matches the other gravel. It's just a different size. So you have almost the same palette, but two different textures.
Related:
Learn more about bocce ball