Backyard Spa, Swim-Up Bar & Waterfall
See how this spa was designed with three essential relaxation elements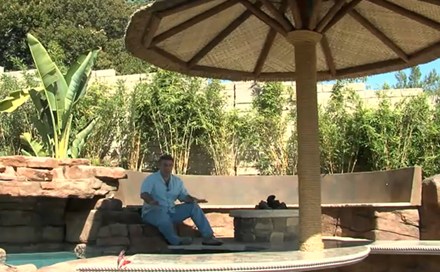 A video transcript featuring Scott Cohen, The Green Scene
When you're building back into a slope, one great way to maximize use of space is to raise the spa up to 3 feet and tuck it into the slope. That's what we did here on this project. That gives me perfect counter height for a swim-up bar wrapping all the way around this spa.
Hydrotherapy well
This is a nice-sized spa. It's oversized to accommodate about eight bathers at a time, and it's got a deep hydrotherapy well here, so you can stand in that. There's room for about two people, and they get massaging jets up and down the body.
Fire pit & seating area
This has a waterfall right behind it that recirculates only the heated spa water. It's a Japanese massage technique from ancient times. Directly adjacent to the spa I put a fire pit. A lot of times when you're in the spa, you might get overheated. You want to cool off just a bit but not ready to go inside just yet. So having a fire pit and seating adjacent to the spa allows you a place to get out, cool off a bit before you jump back in. It allows guests to go back and forth.
This whole area is set up as a separate entertaining outdoor room. We've got a 9-foot palapa umbrella, which gives us shade here. It's also planted with misters so that it can help keep you cool on those hot summer days.