Backyard Kitchen & Bluestone Countertop
Get tips for installing a bluestone countertop with a stone veneer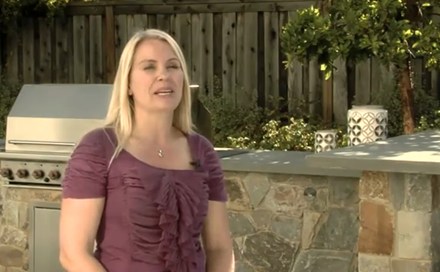 A video transcript featuring Ive Haugeland, Shades of Green Landscape Architecture
Patio zonesThe patio has three zones. We have the zone with the fire pit. We have the zone with the kitchen, which is in the middle, and then on the side there is the water feature. It's a more relaxing zone, but the reason to put the kitchen in the middle was that that could be a place where people collect and hang out, so the cook doesn't have to be alone. And that's also the reason that the bar is connected to the outdoor kitchen, so you can sit and have some company while the grilling is happening.
MaterialsThe material choices for the outdoor kitchen are the same as the rest of the patio. We got this fabulous, big bluestone slab as a countertop, and then we have the bitterroot veneer on the sides, and there's also little down lights on the side. The barbecue itself is a big one, since the clients like to entertain and cook.
Countertop sizingThe height of the countertop should be 36 inches. The width can be 30 to 36 inches. For the bar, about 4 feet tall and 2 feet wide is plenty wide enough. The thing to think about when you plan an outdoor kitchen is to think about the countertop, like how much space do you need and materials; definitely choose something durable.
Consider the distance from houseAnother thing to think about is how far you are from the house. This outdoor kitchen is close to the house, so we only did the barbecue, but, for example, if it's far from the house you might want to think about getting a fridge, or a sink, or a beer tap, or whatever you need.