Nature-Inspired Play Structures
Unique playground equipment that encourages exploration and adventure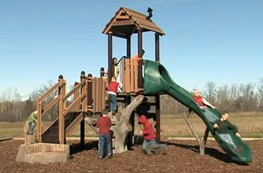 Time / 04:36
The Play Naturally concept, includes various nature-inspired playground and playstructure designs
If you are looking for a unique playground option this may be the answer for you. These nature-inspired structures, which replicate trees, climbing boulders, giant mushrooms and more, provide the perfect opportunity for creative outdoor play.
The Play Naturally™ playground collection is durable, safe and low-maintenance. The Glass Fiber Reinforced Concrete boulders and logs look and feel like the real thing, some even have fossils embedded. According to the manufacturer, Landscape Structures, this type of equipment balances the benefits of play with the benefits of nature and encourages kids to spend time playing outdoors.
Play Naturally™ Options:
Playground climbers and cables
Tree house
Log or mushroom steppers
Wood plank ladder
Log crawl tunnel
If you are interested in learning more about the benefits of natural play check out the Resources & Articles provided by Landscape Structures.