Professional Quality Grill from Wolf
Gain absolute temperature control with this gourmet grill
Swipe to view slides
Outdoor Grills Product Line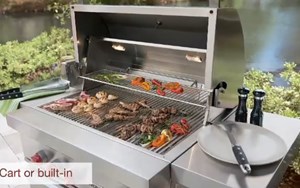 Time / 01:30
View all landscaping videos
Are you still using that old portable grill? You know the kind meant for camping? Don't you think you're ready for an upgrade? Wouldn't a grill that's large enough to cook for more than three people at a time be nice? What about one that grills, sears, roasts and smokes? What about one that allows for precision temperature control?
That's what you get with the Wolf 36" Outdoor Gas Grill. Wolf's grills are easy to use and will have you cooking with confidence. Whether you're grilling up chicken breasts, searing filet mignon or roasting lobster you'll always be thrilled with the results. Precise temperature control and even heat distribution make this grill stand out from the rest.
Wolf grills allow you to cook with both direct and radiant heat. This model features five powerful gas burners, an infrared rotisserie, and a high heat sear zone (25,000 btu). This is the smallest model to come equipped with a sear zone. A sear zone is great for locking in the juicy flavor of a steak or searing the outer edges of a tuna filet. Furthermore, ceramic briquettes located beneath the stainless steel grates release radiant heat for more thorough grilling. A smoker box filled with wood chips can easily be swapped for the ceramic briquettes. This grill, available in liquid propane or natural gas, preheats in less than 10 minutes.
Offered in cart or built-in models, this grill will be the centerpiece of your outdoor living area. With its attractive stainless steel finish, signature red knobs and heavy-duty construction your new grill will make a distinct impression. LED knob lighting and interior halogen lamps make it easy to grill at night.
So if you're ready to ditch that camping grill and upgrade to something more gourmet, the 36" Outdoor Gas Grill from Wolf is an excellent option. You'll be able to cook meat, vegetables, and seafood more perfectly on this professional quality appliance. The food will be so good that you're old kiss the cook apron may actually work.
Check out Wolf Grilling Confidential Videos to see these grills in actions and get a few tips on grilling steak, seafood & more.
Wolf Appliance products are not sold online. Visit their dealer locator to find a showroom near you.
Learn more about outdoor kitchen design