Modular Outdoor Kitchen Cabinets
A revolutionary way to create custom outdoor living spaces, from Eldorado Stone
An outdoor kitchen built with Eldorado Outdoor cabinets.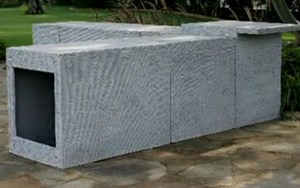 Time / 01:46
Create the Perfect Outdoor Space with Eldorado Outdoor

View all landscaping videos
In this day and age we like instant gratification. We can look up information almost instantly on our mobile phones, we order food from restaurants that promise to have it ready in less than 3 minutes, we stream movies to our TVs at the click of a remote. We wouldn't typically lump a construction project into this category. Most of us expect construction work to take weeks, if not months.
Eldorado Stone is changing these expectations with their Eldorado Outdoor cabinets. Their modular, lightweight system offers a revolutionary solution for creating custom outdoor living spaces. With this system you could have a new outdoor kitchen in as little as a day. Traditional block construction can take up to a full week. Ultimately, you'll save time, materials and money.
The cabinets can be arranged to create a variety of different outdoor kitchen layouts. They are available in regular height and bar height. Additionally, you can choose from straight cabinets, 90° corners, radius corners or 135° corners. Raised backsplashes, seat walls, columns, fire pits and fireplaces are also available to complete your space.
A grinder with a diamond blade can be used to make appliance cut-outs in the cabinets wherever necessary. They are shipped complete with a scratch coat and pre-drilled bolt holes. They are open on the bottom, making gas, electrical & water connections easy.
If you're looking for design versatility these cabinets are great, but if you'd even like to streamline this process they offer Signature Designs. The Metropolitan is suited for small outdoor spaces, while the Coastal Ranch is the ultimate outdoor retreat.
Learn more about outdoor kitchen design