Outdoor Kitchen Construction
Building a barbeque with block, brick, wood, or a steel frame kit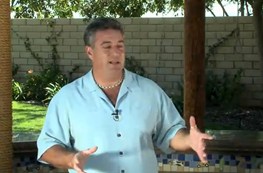 Time / 0:47
Hear about how this outdoor kitchen was constructed using cinder blocks, cast concrete countertops and a faux stone veneer.
Not all outdoor kitchens are built the same way. There are a variety of options when it comes to how the structure, or base, of an outdoor kitchen will be built. The materials selected for an outdoor kitchen must be able to withstand high temperatures as well as a variety of weather conditions. Framing options include concrete block, brick, wood or steel.
The construction of an outdoor kitchen can be a complex process. For safety and durability, it is essential that construction be carried out properly. Hire a masonry or landscaping contractor that has experience building outdoor kitchens. Prefabricated outdoor kitchen kits can be purchased if you wish to avoid detailed construction.
While each outdoor kitchen is unique, the construction process is relatively uniform whether it's built out of wood or block or even a framework kit. However, there are many hidden factors that come into the creation of an expansive satellite outdoor kitchen that can have a big impact on how long it takes to build and whether or not there are specialties that demand a variation in the process.
Grading: Grading a landscape to drain is step one of the construction process that may prove the most important. Soil compaction, leveling and layout of drainage structures such as drop inlets may be considered in these finish elevations with sometimes must meet those of preexisting patios, pool decks or other elements.
Utilities: Installation of utilities is the most challenging of all outdoor kitchen construction features because they may require specialty subcontractors for electric and plumbing needed by many of the kitchen features such as a sink, which requires hot water and a sewer drain. All utilities must be hooked up to the breaker box of the home itself and run underground to the points of connection at the kitchen. The size of the trenches, depth, the need for conduit and other factors must be met exactly for building code inspections.
Overhead structure: If there's a shade arbor or a roofed portico to protect the kitchen and its components, significant footings must be installed early on.
Paving: Many outdoor kitchen systems that offer prefabricated units are installed upon existing paving. Other built from scratch units may be installed on their own concrete footings then paving is laid around them.
Units: The installation of the kitchen units whether a single island or a three sided series will vary in time depending on how elaborate the design. Those which require stone veneer and elaborate detailing as well as complex components can extend construction time considerably, particularly when subcontractors must return to perform final hook ups for inspections.
Countertops: This stage of the process may require granite countertops or tile or even Corian. The more elaborate these finishes are the most time is needed to complete the work. Granite is installed in a day while ceramic tile may take singificantly longer due to the many steps of the tilesetting process.
Lighting and fans: One of the final steps is the installation of lighting fixtures and overhead fans. This is not time consuming, but the lighting must be fine tuned to illuminate particular parts of the kitchen or adjacent dining areas. The positioning of bullet spots and other specialty light fixtures is important for ensuring all the work places are usable after dark.
Resources:
Fresco Frames

Contributing Authors:

Maureen Gilmer, contributing writer for Landscaping Network, author and syndicated columnist

Sarah Hutchinson, contributing writer for Landscaping Network
Related Reading: